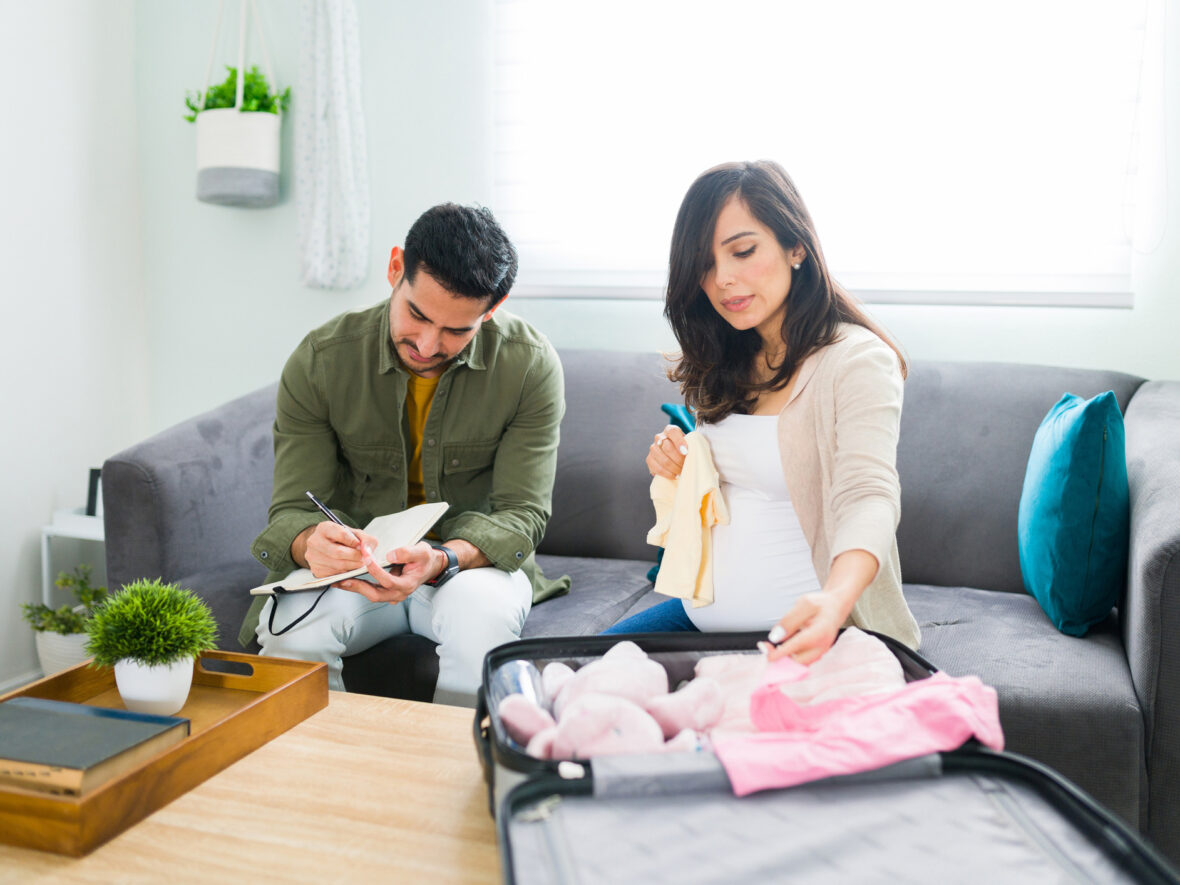 What Should I Pack for Labour?
Keep calm on delivery day by preparing your hospital bag ahead of time. Once your're around 34 weeks, get yourself ready for the big day! Learn below what you should pack for labour…
Hospitals vary in their policies about what you can bring with you when you have your baby. It can be confusing and overwhelming for some when preparing for your baby's birth, but we've put together a list of practical items to pack in your hospital bag for delivery. You may want to take a few items from home, such as your own pillow, to make your environment more personal. Some hospitals provide the basics so check what the hospital will provide you. You can then determine what you need to bring yourself but be mindful hospitals can be short on space. It is a good idea to pack two bags: one for labour and shortly after your baby is born, and another for your postpartum stay.
Let's start with the basics…
Important Basics to Remember when you pack for labour:
Prenatal medical records – One of the first things you will be asked for is your health records so that on-call staff can review your history and provide appropriate care for you.
Health Insurance Card – plus any extended insurance plans you may have.
Birth preferences and affirmations – If you have them. It is good to bring along two copies – one to give to your healthcare provider and one to keep for yourself.
Wallet – Keep in mind not all hospital wards are secure, and wallets can sometimes go 'missing' during your hospital stay. Prepare your wallet with a small amount of cash including small change for midnight snacks from the vending machine and to pay for hospital parking, not all hospitals have ATMs and there is often nowhere to get change on the hospital grounds. Leave any cards that can not be replaced at home or store them safely.
Glasses or contact lenses – Easy to forget but oh-so important!
Phones – The build up to active labour can be a prolonged process and having your phone can be useful to track contractions, keep your loved ones up to date or to play soothing music in the background. Some birthing people prefer to have their phone on airplane mode during labour to keep family and friends' messages at bay and to avoid distraction.
Phone chargers – These are commonly forgotten in the heat of heading to the hospital! Hospital wards may have a spare phone charger you could use in an emergency but don't count on it. In some hospitals they don't allow non-medical items to be plugged-in in the delivery room so a portable phone charger can be useful to have.
Camera and charger – If you choose not to take photos on your phone. Remember the memory card!
Drinks – Wards for newborns are often very warm which can cause you to be extra thirsty. It is common in some hospitals to not eat or drink during labor – not all, but especially in the case of 'high risk' labours. Bringing drinks such as electrolyte drinks or flavored water with you is good when you want to taste flavors other than plain water! Avoid fizzy or carbonated drinks after you have your baby, particularly if you've had a caesarean birth as the bubbles can cause excess wind which can cause discomfort.
Straws – Not all hospitals have some readily-available so come prepared! Straws are great for staying hydrated with sips of water; in labour, while feeding your baby or if you're too sore to sit up after birth.
Pen and paper – Helpful to note things such as your nurse/midwife or doctor's name for sending a thank you card or making notes.
For Mom:
Clothing
Robe or dressing gown – Something comfortable that is easy to get on and off but also looks nice. Hospital gowns are often polyester and non-breathable and can be uncomfortable both before and after you give birth. You may require an IV in labour and having a wide-sleeve gown makes it easier to get your gown on and off.
Loose-fitting clothes – Hospitals are generally very warm environments so wearing layers of loose fitting clothing is not just comfortable but also great to adjust your temperature according to your surroundings. Remember to take breastfeeding in to account when choosing clothing – pack something that buttons down or can pull up/down easily to be able to breastfeed or do skin to skin with your little one comfortably.
Flipflops or slippers – Slippers or flip flops are a must for walking around on hospital floors, plus you have less chance of slipping when holding your new baby. You can shower in them and I didn't mind them being on the floor of the hospital.
Scrunchie or hair band – You're probably going to want your hair up during labour and birth, or even if you know you're going to be having a caesarean section you will need to tie your hair up too. If you are going to the operating theatre, you must not have any metal on you so packing a material, no-metal scrunchie is a good idea.
Cheap or disposable underwear – This is an important item both before and after your baby is born. Disposable underwear is available in many different forms; crepe underwear, mesh and padded disposable underwear which has sanitary pads built in (like an adult diaper) If you are not keen on disposable underwear options, another option is purchasing a multipack of cheap, black cotton underwear. This is a more comfortable option. It is best to size up and buy underwear with a good stretch to go up and over your postpartum bump, not mini briefs as they will sit too low. Black is also a good color as staining isn't as obvious and they can be washed for more wears – if you don't want to throw them out.
Nursing bra – avoid underwire bras where possible! The wire in underwire bras can not only cause discomfort but also blocked milk ducts. Breasts can become engorged in the early days following birth so consider room for stretch when trying on and choosing your nursing bra.
Toiletries
Lip Balm – The warmth of the hospital wards + breathing techniques in labor + using nitrous or entanox pain relief = dry, chapped lips. Pack a twistable lip balm rather than one you must dip your finger into to avoid excess germs!
Toothbrush, toothpaste and mouthwash – Pack your toothbrush in a travel case to keep it clean in the hospital environment. Pack a mini bottle of mouthwash for a quick freshen up when in labor – the mint taste can be refreshing!
Deodorant – Again, deodorant can be a great freshen up before, during and after having your baby.
Soap and shampoo – Hospitals rarely have a supply of soaps or shampoos for you to use while you're an inpatient so remember to pack your own. The first shower after your baby can be daunting but it will make you feel amazing! If you don't want to wash your hair pop a can of dry shampoo in your bag.
Hair brush, emery board, etc.
Breast pads – Useful if you are breastfeeding or not.
Water mist spray – More refreshing and instant than a cold compress made with a hand towel or flannel. Great for a quick freshen up between contractions or pushes.
Lastly but most importantly…
Sanitary pads – You will never have enough of these… Whether you birth vaginally, with instruments or caesarean section – you will still experience some degree of postpartum bleeding. There are often sanitary pads available in hospital – use them!! First of all, they are thicker than normal menstruation sanitary pads and second of all, they are usually free so make the most of them. However, pads are not just for after you get here but also before you labour and in labour. Once your waters break, they will continue to leak until your baby is born – including before and during labour. Having a good stockpile of heavy flow pads is never a bad idea.
Comfort
Pillows – If you give birth in a busy hospital, expect a pillow shortage. Extra pillows are often given to breastfeeding moms to support them while feeding their little ones, or you can bring in a breastfeeding pillow. If your hospital does have enough spare pillows, they are never as comfortable as your ones at home! Bring in a pillow from home for added comfort – just remember to invest in a waterproof pillow cover or you may wind up with stains that will remind you of your hospital stay forever…
Hot water bottle – Can be great to soothe aches and pains in early labour (especially back labour) but it is very important to ensure your hot water bottle is fully closed and sealed to avoid leaks and burns. Be sure your hot water bottle is covered to, to protect you from contact burns.
Nipple comforts – Packing soothing nipple comforts such as AVENT 2 in 1 Thermopads or nipple cream for sore nipples can help when your nipples are causing you pain or discomfort.
Flannel – For everything and anything, especially for your forehead in labour. Flannels are inexpensive and will also come in very useful for before and after you have your baby.
What to Pack in Hospital Bag for your birth partner:
Snacks and drinks – Having a small collection of quick snacks such as granola bars or hard candies are great for when hunger strikes!
Watch – Having a watch with a second hand is very useful when timing contractions and time in between. Some choose to use their phones for a stopwatch, but a watch is just as useful and usually doesn't have to be charged to use it.
Pre-written text to announce baby's birth – Having a pre-written text can save precious time you want to spend with your baby when they are born. Leave spaces for time of birth and weight and fill them in before you send it.
Spare clothes – Pack a change of clothes in the case of spews and spills! Pack swimwear if planning to use the birth pool with mom.
Towel for bathing or showering – Dark colored towels are great for avoiding stains.
Pajamas or lounge wear if staying overnight – It will depend on the hospital you are giving birth in, but some hospitals permit partners to stay overnight to support mom and your new baby. Check with your hospital regarding their rules for overnight support.
iPad, laptop or entertainment – Bring along something for watching movies or tv. Hospital stays can sometimes be longer than expected so having something to pass the time helps. Be sure to store your items safely or bring them home if not using them. Note: not all hospitals have great Wi-Fi or Wi-Fi at all so some streaming services may not be available. Load some ready to play movies or shows so you can watch them instantly.
What Should I Pack for the Hospital for Baby?
Hats and mittens – When baby is born, your nurse or midwife will likely recommend skin to skin with your little one. If there are any complications this may not be the case, but it is important to pack a hat for baby to keep them warm. Babies lose most of their heat from their heads and this way your body will keep them warm and their hat will stop their heat escaping. Mittens are great for babies born with sharp nails to stop them from scratching themselves. Your baby's socks can be used as make-shift mittens if you forgot to pick some up or pack some!
Onesies – Having a selection of long and short ones are great for baby. Pack a good amount of them (typically 5 for a 2-3 day hospital stay) as baby can spew up or have accidents on them meaning more changes. Wet baby clothes cause babies to lose heat and develop sore skin over time so make sure baby is in clean, dry clothing.
Muslin cloths – These are great to have on hand during feeds to wipe up any spills or spews.
Newborn diapers and cotton wool – Newborn diapers are getting more and more technologically advanced; however, it can sometimes be difficult to tell a wet from a dirty diaper. Popping some cotton wool in the front of your baby's diaper can prevent the urine from being soaked up in to the diaper and easy to tell apart from the meconium your baby passes when they are first born. Cotton wool and clean water is also much gentler for cleaning baby's bottom compared to perfumed baby wipes.
Blankets – It is likely the hospital will have blankets for your little one, but it doesn't hurt to pack a few extra.
Baby's Going Home Outfit – Onesie, pants, cardigan or coat, hat and socks (depending on the time of year you may need more or less layers)
Car seat – Do not bring your car seat in to hospital until the day you know you are going home. Hospital space is limited, and your car seat will be in the way for you, your family and the healthcare professionals providing your care. You will, however, need your car seat the day you leave the hospital as you must have baby in a car seat to travel home by car or bus.
Top tip – Pack your baby outfits into zip lock bags and label them. Include a onesie, a hat & nappy. This way you or whoever is with you won't have to search for anything – it'll be easy to find the bag you need!
Optional:
Baby wrap – It is becoming more common for moms and dads to secure their baby while doing skin to skin by wearing a baby wrap. These wraps are lengths of stretchy material or specially made gowns that allow you to have your baby skin to skin but prevent baby from rolling and falling off or you or the bed. These are available to purchase in some hospitals.
Music to listen to – Some hospitals provide a CD player, but it is just as easy load some music on your phone or iPod and bring along a lightweight Bluetooth speaker. When sharing a bay of beds with other women and new babies be mindful your audio devices are not up too loud to avoid disrupting them.
Eye mask – Florescent hospital lighting can be disruptive to some people's sleep, so packing an eye mask might be a good idea if you're a sensitive sleeper.
Fan – If you are birthing your baby in the warmer Summer months you may want to bring your own fan with you to hospital. It is rare to have a hospital with a fan for every mother so prepare to bring your own fan with you if you are sensitive to heat.
We hope you found this post helpful. If you have any additions to our list, please let us know by commenting on our post on Facebook.
Good luck to all the new parents to be!