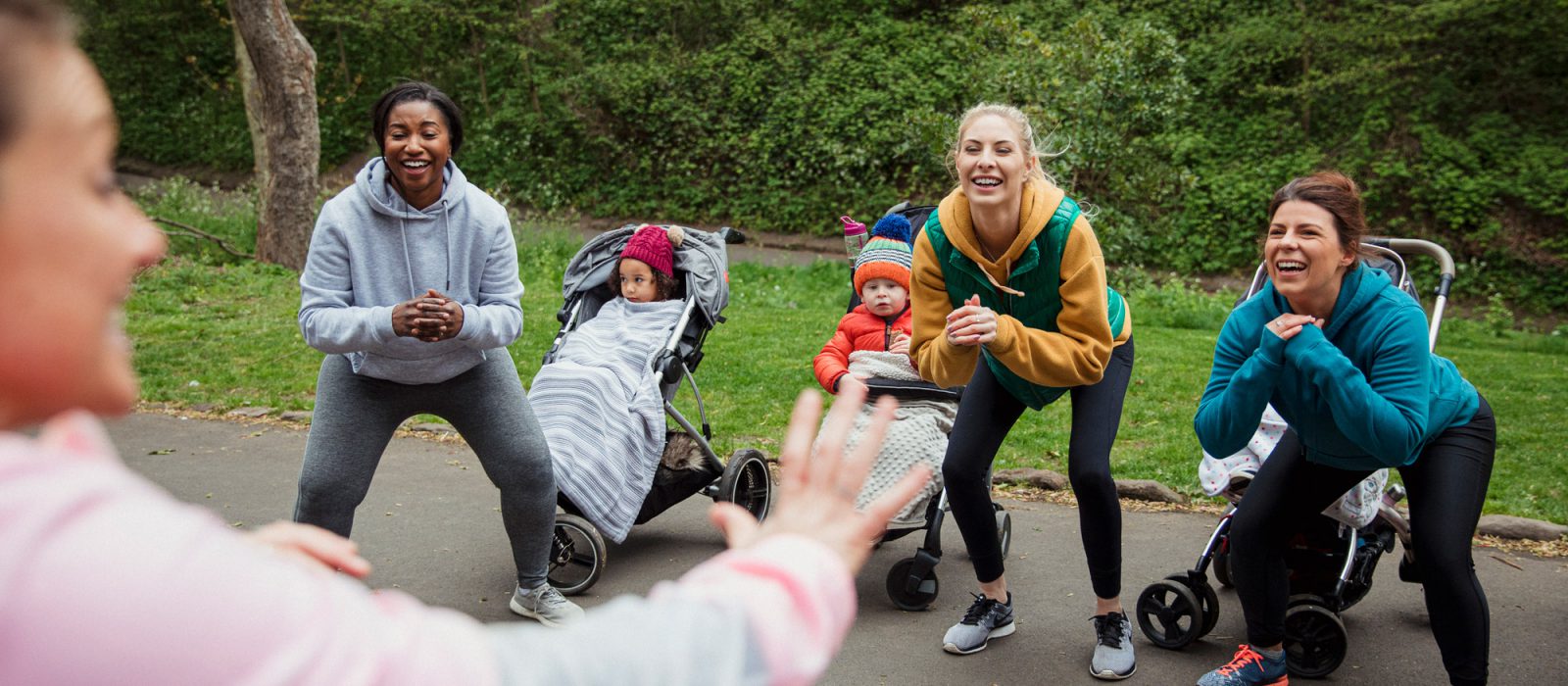 The New Mummy Co is delighted to offer Stroller Fit classes that have been specifically formulated for maximum results to help new mothers to raise their fitness levels without having to leave their bundles of joy. Delivered by expert trainers our sessions begin outside our Oakville location. You will get started with a fast paced walk in the beautiful surroundings of Oakville where you and your babies lungs will be filled with fresh air.
We offer fun, interactive and supportive classes that are all about personal care for mothers with young babies. We help you to reach your fitness goals by gently but effectively guiding your body to a desired fitness level post delivery.
The great outdoors is our fitness playground as you get your heart pumping and stroller wheels rolling. Power walking, muscle conditioning, strengthening and stretching activities leave you feeling empowered and re-energized as a new mommy while bond with your baby.
One hour long and at your pace, the benefits of our stroller fit sessions can be felt after the very first visit. It's possible that you will feel the effects of the exercises the following day!
It is always best to check with your Doctor before starting a new training routine.
All Fitness Levels
Your body has been through something extraordinary. The physical changes and hormonal fluctuations that you experienced may have been challenging. However these are challenges that we can overcome together with our specifically created fitness classes. Whether you have never exercised before or if you are an experienced fitness lover, our trainers have the familiarity and the knowledge of postpartum challenges to modify every element of the class to your unique needs. So don't be shy, come along and meet a great trainer and your new mom friends.
Free Intro Class
Take advantage of a free intro class to try it out! You can use the code "STROLLFREE" to get a free trial class. Priority will be given to paying customers if the class is booked out.
Class Details
Join us each Thursday morning at 10am from April 20th. We meet outside the Palermo Medical building at 2525 Old Bronte Rd, next to Kumon. The class is one hour in duration. Please try to get to the building by 9.45am so that you have time to get parked, unpacked, baby in the stroller and join the other Mums. Diahann will start your class and warm up with a brisk walk meaning the group will leave the area at approx. 10am. Advance registration is required a minimum of 2 hours prior to class. Free parking is available.
Discover Your Inner Strength
Exercising is as much about your emotional well being as it is about keeping your body in optimum condition. Focusing on breathing techniques, whole body toning and mom and baby bonding, our classes will increase your emotional health and boost your energy levels.
We start with creative, fun and interactive warm-ups that include your baby, to get the blood flowing all over your body. You are then prepared for the changing variety of high intensity, easy to follow exercises that are created specifically for new moms. Postnatal abdominal and core movements focus on the areas of your body that have been that have been through an extraordinary journey. Many of the exercises are interactive, incorporating your baby into your work out with songs, dances and finger play. Add a relaxing mommy meditation warm-down and you have had wonderful hour of bonding that is also empowering, challenging, effective and rewarding.
Our Fitness Experts
At the New Mummy Company we are committed to providing a warm and welcoming, safe environment for new moms. We achieve our goal by hiring only specialist instructors, highly trained in postnatal fitness, that are as passionate as we are about the physical and emotional well being of the moms and babies in our care. They are committed professionals who have the experience and the knowledge to offer safe, considered and rewarding classes. You and your baby will leave at the end of each class feeling energized and restored.
How You Can Access this Service:
Private
Private classes are not available for this service at this time.
On-Site
On-Site is a great option if you prefer real-time interaction, want to meet other parents, and enjoy the social component. This service is available at our headquarters.
2525 Old Bronte Rd Unit 215, Oakville, L6M 4J2, Ontario
Virtual
Virtual classes are not available for this service at this time.