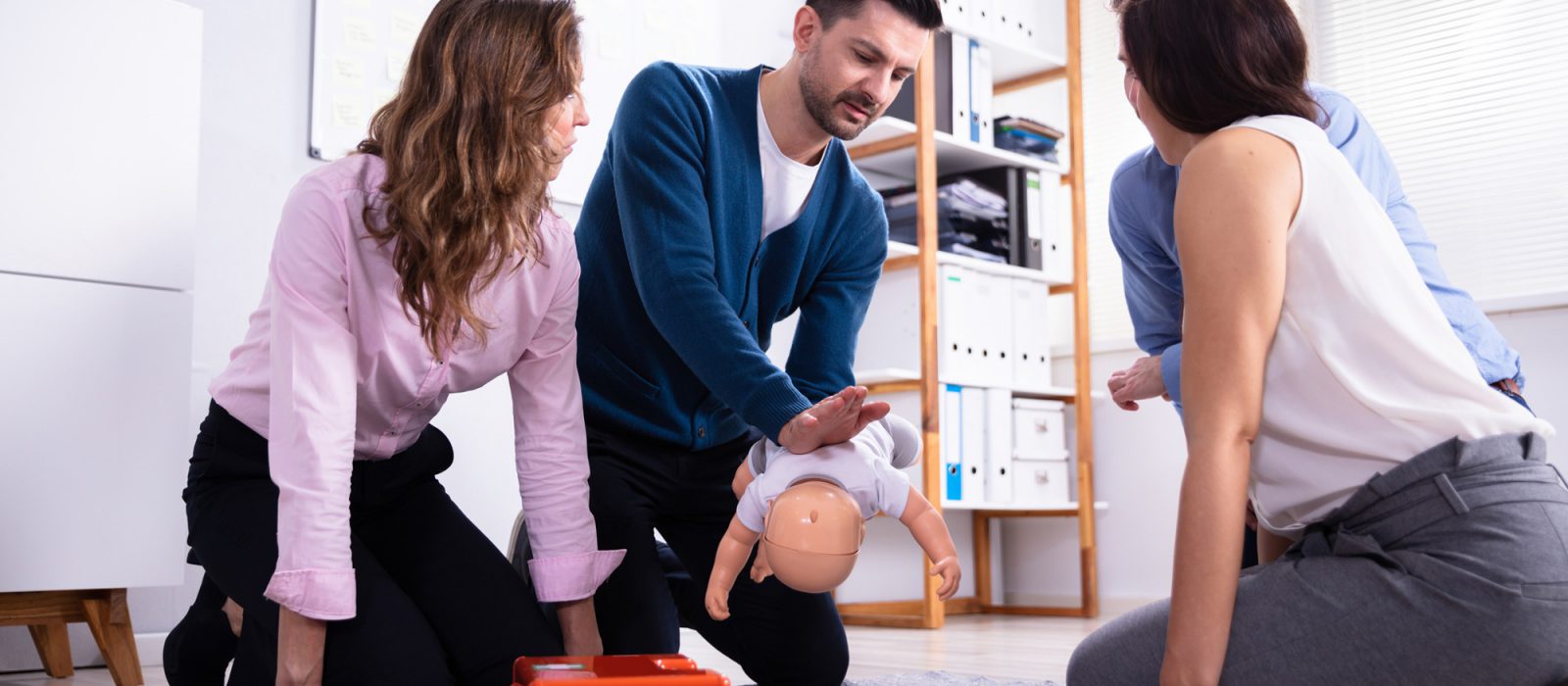 Be Confident, Calm, and in Control During an Emergency
We can help build your confidence and ability to react to an unexpected emergency event. Our aim is to teach you to be self-reliant and confident in the action to take and what to tell 911 in the few short minutes before a first responder arrives. We will provide you with the practical skills to be proactive in a first aid emergency.
We have supported thousands of parents across Toronto & the wider GTHA by developing a unique curriculum for new and expectant parents. The class is uncertified to allow us to focus on newborn and infant topics only. The Baby CPR class will give you peace of mind while our amazing instructors will ensure the class is fun and engaging.
Our expert educators will ensure you gain the skills and knowledge to deal with choking events which is always in demand from parents as they move into the introduction to solids and baby-led weaning phases.
What's Included:
Infant & child CPR with practice on mannequins
Basics of baby first aid
Choking events
Burns
Illness & fevers
Febrile seizure
Broken bones
Poisoning
Emergency Scene Management
Use of AED
Laws governing CPR
Private In Home Baby CPR Pricing:
2 people – $100 per person
3 people – $95 per person
4 people – $90 per person
5 people – $85 per person
6 people – $80 per person
7+ people – $75 per person
Selma was fantastic! We all felt much more prepared for baby after taking this class.
Jessica B from Toronto
Appreciated the CPR information as we are future grandparents who now feel prepared to take on the important job of day care.
The Kibsey Family from Mississauga
Steve was absolutely fantastic! He kept us engaged throughout the three hours (didn't feel like three hours) and just had such a great approach to teaching and explaining. Not everyone can do and teach, but he definitely can! He stays away from too much jargon, doesn't get too technical and makes the content relatable and easy to understand all the while having a very comforting approach for new parents who might be a bit anxious. I would definitely recommend him to anyone and everyone, whether its your first class or a refresher.
Sarah from Toronto
How You Can Access this Service:
Private
Private is a great option if you prefer privacy or want to host amongst friends or family in the comfort of your own home.
On-Site
On-Site is a great option if you prefer real-time interaction, want to meet other parents, and enjoy the social component. This service is available at our headquarters.
2525 Old Bronte Rd Unit 215, Oakville, L6M 4J2, Ontario
Virtual
Virtual classes are ideal during COVID, are great for families with busy schedules, or for those who live out of our offered locations. They are hosted over Zoom and are available to anyone no matter their geographic location. For the best experience, we recommend viewing from a laptop with a high-speed internet connection.